Made By: BRUDER
Item: 02110
Scale: 1/16
Price

$21.99




10% OFF = $19.79

In Stock
First arrived: 10/25/2007
Added to catalog: 1/31/2007
Size in inches: 9.9"L x 5.1"W x 5.9"H
Recommended Age: 5 and up

Claas Nectis 267 F Tractor - Pro Series

Features include:
• Detachable front weight
• Functioning front and rear hitchs
• Steerable and off road front axle

• Additional steering rod allows steering through the sliding tractor roof
• Realistic tire tread
• Can be used with an attachable front loader! (not included)
• Manufactured from high-impact ABS plastic
• Made in Germany

Class, the farming equimpent specialst, took it to the next level with the Nectis series. Thanks to its powerful engine, special chassis and extreme turning angle, and smaller tires, it can maneuver anywhere with ease, even in rough terrain. Just like its real life counterpart, this compact tractor is perfect anywhere, inside and out! Compatible with any trailers and implements within Bruder's Pro series and Ertl's Big Farm Series, ensuring that there is never a dull moment!

Warning: Choking Hazard - Small Parts

not for children under 3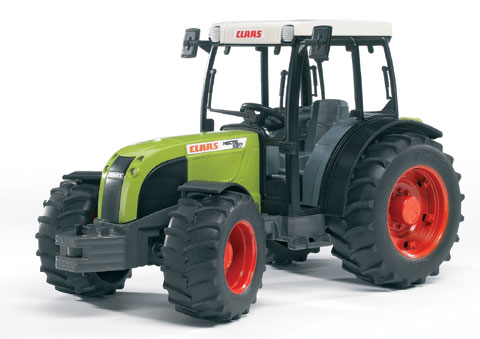 rusty - north carolina
Review Date: 2/12/2009 7:09:00 PM
Overall Rating

Experience Level: Average
Purchased for: Gift for Child
My 5yr old has many die cast tractors...he loves this tractor. These pro series tractors have a sun roof and a steering wheel that the child can insert through the roof and drive. Very cool.