Made By: FIRST GEAR
Item: 50-3132
Scale: 1/50
Price $48.50 was $56.99
In Stock
First arrived: 10/27/2008
Added to catalog: 5/27/2008
Size in inches: 5"x 3"x 3"
Recommended Age: Adults
RETIRED ITEM
Available only while supplies last

International TD-25 Dozer with Umbrella, Blade and Hitch
Adjustable blade
Working segmented metal tracks
Fully detailed operator control center
Hitch with hitch pin

Caution: This item is an adult collectible designed for use by persons 14 years of age and older.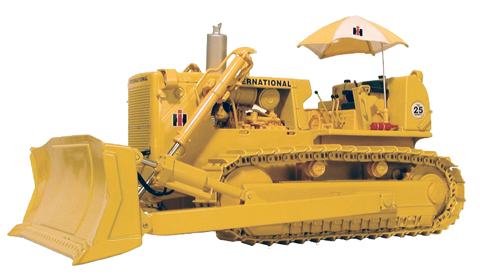 360 View requires Adobe Flash Plug in. Click image and Drag side to side to control rotation.
eduardo rios - mexico
Review Date: 3/5/2016 1:15:32 PM
Overall Rating

Experience Level: High
Purchased for: Personal Collection
Great service, and great models. thanks 3000 toys.
Kevin - Indiana
Review Date: 5/31/2015 9:32:06 PM
Overall Rating

Experience Level: High
Purchased for: Personal Collection
This is a decent model I purchased after seeing the real version it has suburb detail the only fault is in the tracks as the left side bunches us upon turning otherwise it is a fantastic model
michael - Athens,TN
Review Date: 3/5/2015 12:33:52 PM
Overall Rating

Experience Level: Average
Purchased for: Personal Collection
very nice and detailed model for the price