Made By: MAISTO
Item: 31206R
Scale: 1/24
OUT OF STOCK
First arrived: 12/8/2011
Added to catalog: 1/25/2011
Recommended Age: 8 and up
RETIRED ITEM
0 or less remaining
Available only while supplies last

2011 Mercedes-Benz SLK in Red - Special Edition:

• Diecast metal body with plastic details
• Opening doors
• Opening hoods and trunks on some models
• Detailed chassis

Warning: Choking Hazard - Small Parts

not for children under 3

Reward Points thru Dec. 15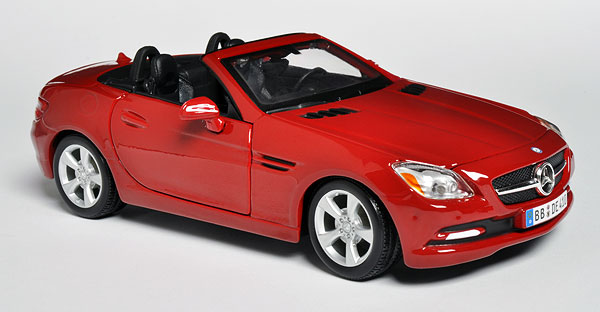 Mark - Oklahoma
Review Date: 12/19/2012 8:49:23 PM
Overall Rating

Experience Level: Average
Purchased for: Personal Collection
I was completely amazed. We were looking for a specific toy, a die cast red Mercedes convertible and had looked at several toy, hobby, stores, the local mercedes dealer, and several online sites. I was concerned that waiting until 6 days before Christmas we would not be able to get this in time and I refuse to pay 3-5 times the price of the die cast for shipping. 3000 toys under promised and over delivered. Flat rate UPS shipping for $7.95 with no indication of shipping time. I was a bit concerned. Imagine my surprise when I received the item the next day, even a day before ordering an item on Amazon Prime at the same time with 2-day shipping. You guys are awesome and I am very pleasantly surprised. This was my first experience with 3000Toys and i will definitely be back. Thank you and have a Merry Christmas.