Made By: TONKIN
Item: 10011
Scale: 1/50
Price $62.50 was $124.99
In Stock
First arrived: 3/5/2014
Added to catalog: 10/11/2013
Recommended Age: 14 and up
RETIRED ITEM
Available only while supplies last

Caterpillar 988K MA Wheel Loader with Millyard Arrangement

Caution: This item is an adult collectible designed for use by persons 14 years of age and older.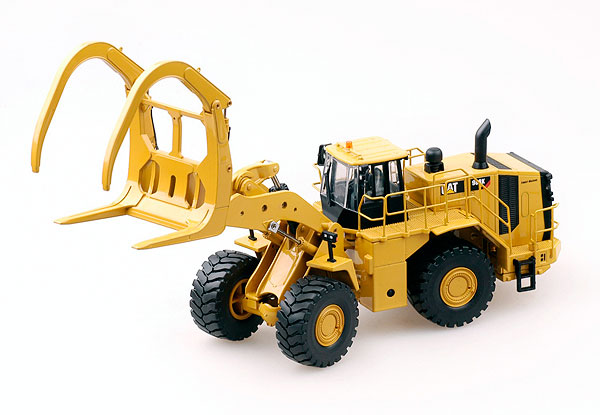 Daniel - Colorado
Review Date: 1/18/2017 10:18:03 AM
Overall Rating

Experience Level: High
Purchased for: Personal Collection
Let's start with the fact that Tonkin makes some great replicas. This particular Caterpillar really impressed me. I have several different types of replicas and for the price, Tonkin is my favorite to date.
Dan - Colorado
Review Date: 7/14/2014 2:43:32 PM
Overall Rating

Experience Level: Average
Purchased for: Personal Collection
After I received the Tonkin replica I have been nothing but pleased. Tonkin does a great job I was truly surprised on how much detail they put into this replica. Anything that is metal on the actual machine is metal on the replica. the hyd hoses are super flexible and realistic. I will never again buy a Norscot replica when a Tonkin is available. Tonkin has won my business with the quality of this replica. I would recommend that anyone who is on the fence about purchasing a Tonkin replica do it you defiantly wont be disappointed. Thanks Tonkin for doing such a great job!! I will defiantly be purchasing more of your replicas in the near future!