Made By: BRUDER
Item: 02816
Scale: 1/16
OUT OF STOCK, SORRY
First arrived: 6/18/2008
Added to catalog: 4/25/2008
Recommended Age: 3 and up
RETIRED ITEM
Available only while supplies last

MACK Granite Snow Plow Truck

Driver's cabin: engine bonnet can be opened, providing a view of the engine block, foldable wing mirrors and doors that can be opened, front and rear screen made of transparent and unbreakable polycarbonate, front panel, bonnet ornament, rear-view mirrors, exhaust pipes, roof lights, fanfares and radiator grille with chrome look Construction: fully functional gritter with feeding screw, can be switched on and off by a lever, gritter can be tipped up for transport and cleaning, fillable tank can be opened and closed, working space of the screw can be viewed (flap can be opened), movable mounting ladder Plow blade: Plow blade horizontally adjustable on both sides, easy operation through centrally arranged adjustment knob and lever, can be connected to all lorries of the professional series (MAN, with adapter to MACK trucks and MB Actros).

Size in cm: 66.5 x 18.5 x 27.5

High Impact ABS PlasticCompatible with the Ertl Big Farm products

Warning: Choking Hazard - Small Parts
not for children under 3

Reid(Cat Man) - Massachsetts,USA
Review Date: 3/31/2010 6:38:00 PM
Overall Rating

Experience Level: High
Purchased for: other
I got this VERY DETAILED Mack Granite plow.Nothing ever happen to it.I HIGHLY reccomend this GREAT toy,"Oh and I'm only nine!!!" (March.31.2010)

buddy - pennsylvania
Review Date: 1/21/2012 3:10:37 PM
Overall Rating

Experience Level: Average
Purchased for: Personal Collection
i have one, not from here, and it is blue, and i snowplowed my driveway with. it it worked great.

Product Review Guidelines

3000toys.com reads all reviews before posting them and reserves the right to deny any review.

If you have questions about a product or need other assistance, please send us an email.

Below are some of the things that can cause a review to be denied:

Offensive or abusive language
Pricing information
Hyperlinks / URLs
References to other stores / resellers
Comments on products that were either physically damaged or misused
Replies to existing customer reviews - please do not attempt to initiate discussions here.
Criticism of 3000toys.com's service or the service of our operations partners (UPS, USPS, etc.) - please contact us directly with customer service issues.

3000toys.com may choose to correct spelling and grammatical errors.
email address (not shown on web site)
Location (State and/or Country)
How would you rate your knowledge of this type of product?
Purchased for
Item Rating (Quality, Design, Value)
Comments - Please be specific. "Great model" is nice but not very informative. Please do not type in ALL CAPS.
Do not ask questions here. Questions should be addressed to service@3000toys.com

Please allow several business days for your review to appear.
Quick Links
---
---
Popular companion items.
| | | | |
| --- | --- | --- | --- |
| BRUDER | 02813 | 1/16 Scale | $99.99 |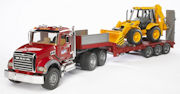 MACK Granite Flatbed Truck with JCB Backhoe Loader GIFT WRAPPING NOT AVAILABLE FOR THIS ITEM...[more]

| | | | |
| --- | --- | --- | --- |
| BRUDER | 02815 | 1/16 Scale | $57.99 |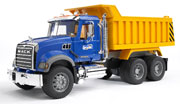 MACK Granite Dump Truck - Pro Series - colors may vary

Features include:
• Dump bed tilts...[more]