Made By: CORGI
Item: TY95702
Scale: 3"
OUT OF STOCK
First arrived: 7/19/2006
Added to catalog: 5/5/2006
Size in inches: 3L x 1.5W
Recommended Age: 14 and up

James Bond - Lotus Esprit Underwater from the James Bond Movie "The Spy Who Loved Me"

Caution: This item is an adult collectible designed for use by persons 14 years of age and older.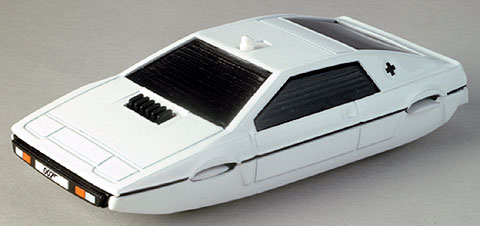 Kenny - California
Review Date: 1/17/2009 1:14:27 AM
Overall Rating

Experience Level: High
Purchased for: other
I had most of these cars back in the 1970's. The james Bond Lotus was one that I had. The only thing that's missing are the little orange missiles that popped out of the rear window! Get this version back and I'll buy it. unfortunately my big sis lost my entire car collection in 1982 of Hotwheels,Model cars that were hand built,and both Bond cars the Lotus and Aston Martin.