Made By: CORGI
Item: US53605
Scale: 1/50
OUT OF STOCK
First arrived: 12/1/2009
Added to catalog: 11/1/2006
Size in inches: 6" x 2"
Recommended Age: 14 and up
RETIRED ITEM
0 or less remaining
Available only while supplies last

Peter Pirsch and Sons, Waukesha, WI Fire Department - Open Cab Pumper - Heroes Under Fire
From the Heroes Under Fire Series
The Pirsch manufacturing facility was in Kenosha, Wisconsin. Due to that, there were many Pirsch apparatus throughout Wisconsin and the rest of the Midwest from the 1940s through the 1970s. The Waukesha Fire Department received Serial #1830 on March 7, 1949.
Answering the call from collectors, Corgi has brought back the retired models of E-One fire apparatus. The E-One pumper and the E-One 75-foot Ladder are refreshing the Heroes Under Fire line for 2008, and we are happy to welcome them back! - JUST 3 LEFT

Caution: This item is an adult collectible designed for use by persons 14 years of age and older.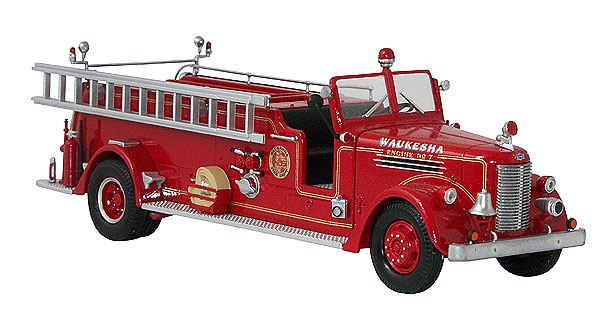 John - Waukesha Wi
Review Date: 3/3/2008 10:04:04 AM
Overall Rating

Experience Level: High
Purchased for: Personal Collection
I can't wait to order one. However, I will be cutting off the beconray light. It must have been added by the current owner. I owned engine 6, the 55 Pirsch open cab pumper, for 11 years. The 49 Pirsch was not designed for front line service. It was bought to pump at a hydrant during a major downtown or industrial fires. Waukesha FD had a 51 FWD pumper and our 55 as triple combination pumpers. I had only 6,000 miles on the odometer when sold by the Waukesha Fire Dept. You may edit my notes. Regards, John Thomas
James - Milwaukee. WI
Review Date: 1/20/2007 6:42:00 PM
Overall Rating

Experience Level: High
Purchased for: Personal Collection
I'am very familier with this engine; my father was a member of the Waukesha Fire Dept.from 1941 to 1965.He rode on this engine several times. I myself rode on it in several times.What I can tell from the photo it looks like a very nice model. I plan on getting this model, Thanks for making it available,it brings back a lot of memories.James R. Kruck