Made By: NEW-RAY
Item: SS-15333H
Scale: 1/43
OUT OF STOCK
First arrived: 3/12/2008
Added to catalog: 2/28/2008
Size in inches: 17" x 2.25" x 3.75"
RETIRED ITEM
or less remaining
Available only while supplies last

Kenworth W900 - Semi and trailer are both blank white - The areas on the sides of the trailer that can have graphics applied measure 11 1/8" x 2 1/8" - JUST 2 LEFT

Warning: Choking Hazard - Small Parts

not for children under 3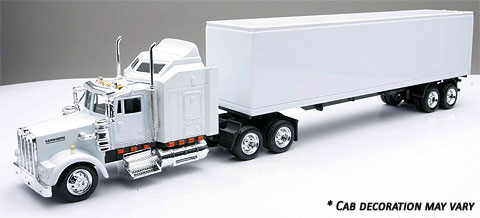 John - Califorina
Review Date: 10/17/2012 3:59:23 PM
Overall Rating

Experience Level: Novice
Purchased for: other
You do not buy a thing like this to play with. Put it in a book case and enjoy it like that.
taz - california
Review Date: 10/8/2009 10:20:56 PM
Overall Rating

Experience Level: Average
Purchased for: Personal Collection
i bought this truck last year and i play with it on a daily basis ..its really durable and the detail is great....