Made By: 3D TO SCALE
Item: 50-100-GY
Scale: 1/50
Price $7.99

In Stock

First arrived: 3/7/2014
Added to catalog: 3/7/2014
Size in inches: 2.375 L x 1/2 x 3/4
Recommended Age: 14 and up

Traffic / Jersey Barriers - 4 pack interlocking concrete grey - ABS plastic - Made in the USA using 3D printer technology

Caution: This item is an adult collectible designed for use by persons 14 years of age and older.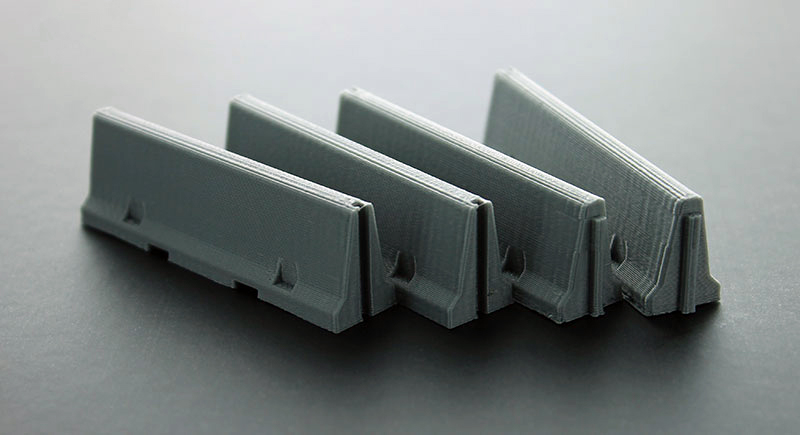 Diecast Emporium - OHIO
Review Date: 10/12/2016 2:14:23 PM
Overall Rating

Experience Level: Average
Purchased for: Personal Collection
These 3D-Printed Construction accessorizes really look the part; especially if you plain on having/making a diorama with construction related themes. They are priced just right, and robustly made. I would highly recommend these to any collector of heavy equipment.
Dave - Ohio
Review Date: 11/22/2015 1:03:32 PM
Overall Rating

Experience Level: High
Purchased for: Personal Collection
They're really nice they can fit on just about any set of forks. They don't snap together like they should tho but do look good any where. If your gonna buy it I recommend buy more than 1 pack
Matt - USA
Review Date: 8/15/2015 5:15:33 PM
Overall Rating

Experience Level: Average
Purchased for: Personal Collection
They work great