Made By: BRUDER
Item: 02448
Scale: 1/16
Price $59.00

In Stock

First arrived: 2/4/2008
Added to catalog: 2/4/2008
Size in inches: 18.4"L x 7.1"W x 8.5"H
Recommended Age: 3 and up

Caterpillar Track Loader
High Impact ABS Plastic
Compatible with the Ertl Big Farm products

Warning: Choking Hazard - Small Parts

not for children under 3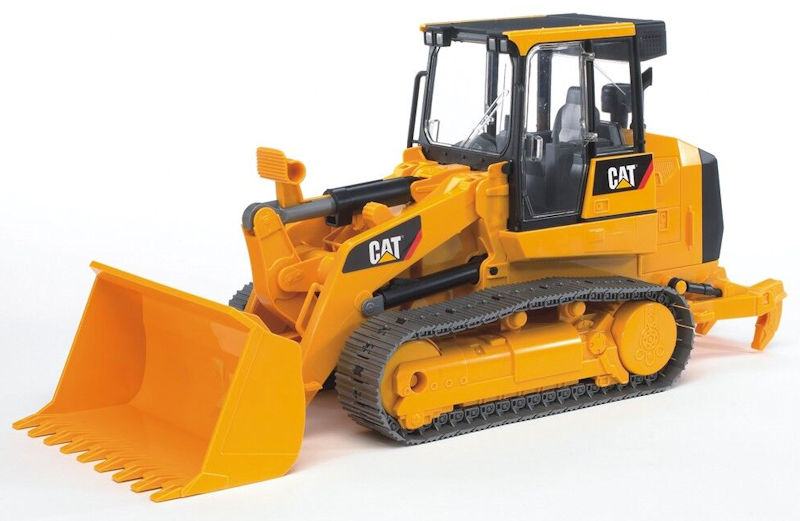 dave - pennsylvania
Review Date: 7/26/2010 9:22:24 PM
Overall Rating

Experience Level: Average
Purchased for: other
I played with for about a month only on weekends and soon the tracks started getting loose and it became a pain to roll them because theyd fall of.Other wise I think its great.I also left it in the sun and it became easy to crack an break.I hope to get another but its to expensive for a plastic toy that breaks easy.
steve k - South Australia
Review Date: 6/26/2010 12:37:29 AM
Overall Rating

Experience Level: High
Purchased for: Personal Collection
Very well detailed machine, resembles the Cat 963 very well. I have the Dozer too, and both models impress me greatly, am going to detail both of mine to make them a bit more realistic. I mainly collect smaller scales, but once I had the dozer, the tracked loader was a must have. Liebherr wheel loader is in my sights now!!
Andy - Upstate New York, USA
Review Date: 4/15/2009 2:08:06 PM
Overall Rating

Experience Level: High
Purchased for: Gift for Child
Bought this for my son. We have the smaller Cat. bucket loaders and skid steer. He loves the scooping in the dirt, but what he loves most is the catapiller tracks from the big Cat. backhoe. So I got him the bucket loader with Cat. tracks. This toy is loaded with action and play fun. However, it still has the same flaw that all the bruder toys have. If you leave it out in the sun all day, eventually the plastic will get brittle and break.
Steven - Virginia
Review Date: 12/25/2008 5:55:52 PM
Overall Rating

Experience Level: High
Purchased for: Gift for Child
I just got this toy for Christmas. It is quite detailed and I would recommend it to anyone. I especially love the smooth rolling tracks. There is no force needed at all to move the tracks. This toy I will play with for probably years to come. overall, I give this 5 stars and excellent quality. This is a GREAT toy!!!