Made By: BRUDER
Item: 02749
Scale: 1/16
Price $62.99

In Stock

First arrived: 3/15/2005
Added to catalog: 3/15/2005
Size in inches: 20.5"L x 7.3"W x 10.4"H
Recommended Age: 3 and up

Cattle Transportation MAN Truck with One Cow - The true-to-original details contribute to a high level of play value. In order to safely take the animals in-or outside of the transportation truck there is a tailgate that can be used as ramp when lowered.
Features include: Tiltable MAN driver's cab enables view on the motor unit, swing-out mirrors, container-box can be disassembled in piece parts, container-boxes can be interchanged and combined, the interchangeable containers are garaged on the outriggers in order to be loaded or unloaded, folding tailgate ramp including a ramp extension, railings attachable to the left and right side of the ramp guarantee the safe transport into the 2 side doors that can be opened, Interchangeable cattle container
High Impact ABS Plastic
Compatible with the Ertl Big Farm products

Warning: Choking Hazard - Small Parts

not for children under 3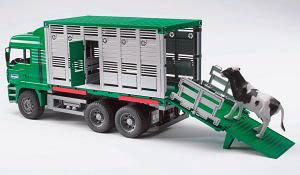 Dedra - Missouri
Review Date: 6/10/2015 2:35:39 PM
Overall Rating

Experience Level: Average
Purchased for: Personal Collection
Grandkids love this truck. Hope it holds up - but it is plastic.
xz - ill
Review Date: 11/12/2009 9:36:25 PM
Overall Rating

Experience Level: High
Purchased for: Diarama or Train Layout
awesona coooll
zeekster - United States of America
Review Date: 4/11/2009 10:57:09 AM
Overall Rating

Experience Level: High
Purchased for: Personal Collection
this is a great toy for your kid! it is a good way to influence them to be a future farmer of America!