Made By: BRUDER
Item: 03071
Scale: 1/16
OUT OF STOCK
First arrived: 10/7/2008
Added to catalog: 4/25/2008
Size in inches: 14.4x6.9x8.1
Recommended Age: 3 and up
RETIRED ITEM
0 or less remaining
Available only while supplies last

Valtra T191 Tractor Front Loader
Fully glazed cabin with transparent and unbreakable polycarbonate as well as doors that can be opened, drawbar coupling with height adjustable hoisting unit, engine bonnet can be opened, receiver for frontloader, steerable with additional handlebar through the sliding roof of the tractor, steerable, off-road full floating axle, sculptured tires with receiver for twin tires. The Valtra T 191 can be combined with all trailers and equipment of the professional series.
Size in cm: 36.5 x 17.5 x 20.5
High Impact ABS Plastic
Compatible with the Ertl Big Farm products

Warning: Choking Hazard - Small Parts

not for children under 3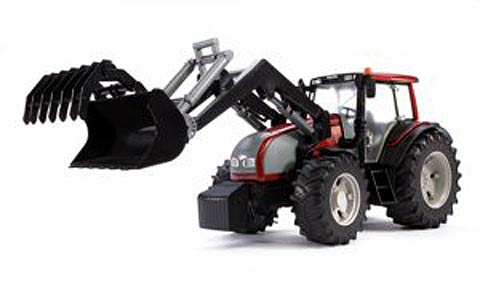 Dylan - usa-carrllton ga.
Review Date: 8/7/2010 5:07:37 PM
Overall Rating

Experience Level: High
Purchased for: Diarama or Train Layout
This tractor is great i love it goes great with my 1/16 farm-Grassmen of North America very impressed. i foud the question online has any one built a model ady gil-earth -race.and soon i found out the answer...NO on the bright side in a few weeks i will be building a model ady gil.