Made By: ERTL
Item: 12278
Scale: 1/64
Price $37.99

In Stock

First arrived: 12/28/2017
Added to catalog: 8/31/2017
Recommended Age: 5 and up

Farm Country Western Ranch Playset - Over 65 Pieces

Each 1:64 scale Ertl Farm Country playset lets youngsters experience the best of country living, whether they live in the heart of the farm belt or the middle of the city. Included in each set are easy-to-assemble plastic buildings, life-like human and animal figures, and a generous helping of accessories for youngsters to harvest a bountiful crop of imaginary rural adventure.

Warning: Choking Hazard - Small Parts

not for children under 3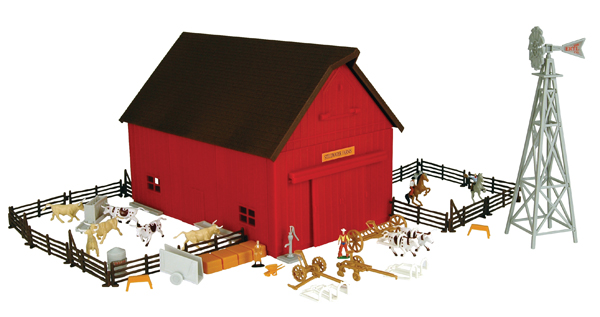 Melvin - IA Polk Cnty
Review Date: 1/18/2012 12:32:45 PM
Overall Rating

Experience Level: Average
Purchased for: Diarama or Train Layout
It would be nice if the actual size was listed so one would know how much space it will take. Yes it is 1/64 but 1/64 of what size of a barn.