Made By: ERTL
Item: 21840P
Scale: 1/32
Price $44.99

In Stock

First arrived: 11/24/2007
Added to catalog: 8/2/2007
Size in inches: 7" x 2 1/2" x 3"
Recommended Age: Adults
RETIRED ITEM
4 or less remaining
Available only while supplies last

Texaco #24 - (2007) - 1918 Mack AC Tanker - Bank - Regular Edition

4,100 AC Mack Delivery trucks were built for use in WWI. The truck's unique blunt-nosed design reminded the British troops of their own bulldogs. Hence the origin of the Bulldog hood ornament on later Mack trucks. From 1916 through 1939 over 40,000 Mack AC trucks were built.

Caution: This item is an adult collectible designed for use by persons 14 years of age and older.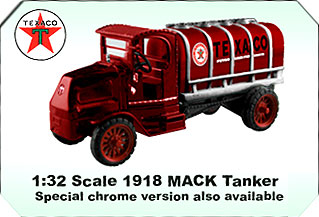 360 View requires Adobe Flash Plug in. Click image and Drag side to side to control rotation.
Jeff - Arkansas
Review Date: 12/8/2008 10:22:16 AM
Overall Rating

Experience Level: High
Purchased for: Gift for Child
This order was handled in a timely fashion. Very pleased with the quality of the product. This is something that I do every year on Christmas for my Grown Son. We started collecting the Ertle Texaco Banks when he was a child and continued the tradition. Very happy with the service and the product.