Made By: ERTL
Item: 35774
Scale: 5"
Price $7.99

In Stock

First arrived: 10/26/2009
Added to catalog: 10/26/2009
Recommended Age: 5 and up
Limited Stock
8 or less currently available

John Deere Tractor with Duals
Mini AG vehicles with diecast and plastic parts - perfect for kids who idolize the John Deere lifestyle and love to recreate their own farm in the sandbox. Compatible with 1/64 vehicles.

Warning: Choking Hazard - Small Parts

not for children under 3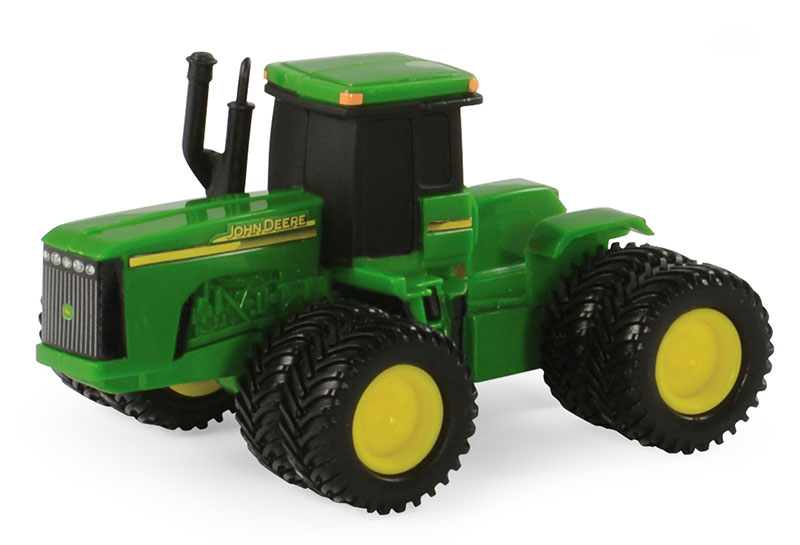 Cody - Virginia, USA
Review Date: 8/29/2013 6:36:24 PM
Overall Rating

Experience Level: Average
Purchased for: Personal Collection
I've had this one for several years, along with the one with a single wheels. It is mostly plastic, with a metal base. It's is a little odd with the triple wheels, and is nearly as wide as a 1/16 model. It's not very well detailed, as only the John Deere side stripe and some reflectors are present. In fact, my $4 keychain is better detailed, and it's made by the same brand. For kids, however, being plastic, there is no chance of paint chipping off, and fewer "detail" parts, so not as many small parts to break off. This is better for younger children and not the detail oriented.
cindy - la
Review Date: 11/15/2012 8:34:18 AM
Overall Rating

Experience Level: Novice
Purchased for: Gift for Child
its a good product but i thought i was getting the toy in the picture with three wheels on it and i got one with two wheels on it instead, my son already had this one too much trouble to send back so we just kept it, so disappointed it wasnt the one in the picture.