Made By: ERTL
Item: 9321
Scale: -
Price $299.99

In Stock

First arrived: 3/28/2016
Added to catalog: 2/8/2003
Recommended Age: Adults
RETIRED ITEM
1 or less remaining
Available only while supplies last

Texaco #4 - 1905 Ford Delivery Car
Produced in 1987

Caution: This item is an adult collectible designed for use by persons 14 years of age and older.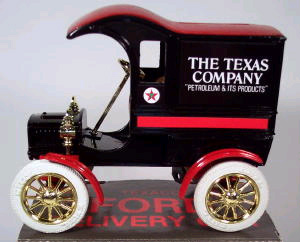 bob - colorado
Review Date: 3/2/2007 8:19:51 AM
Overall Rating

Experience Level: Average
Purchased for: Gift for Adult
The 1905 Ford Texas delivery truck by ertl is of excelent quality except the steering columb is made of plastic and can easily snap off if you are cleaning or dusting the truck. For a model this expensive ( over $200.00 ) It could have been made of brass tubeing to be more durable.