Made By: FIRST GEAR
Item: 40-0238
Scale: 1/25
Price $265.99

In Stock

First arrived: 5/3/2011
Added to catalog: 8/27/2010
Size in inches: 14.25" x 6.5" x 6"
Recommended Age: Adults

International Model 350 Pay Hauler

This diecast metal monster is based on the 1970s era International Model 350 and measures 14.25" long and stands approximately 6" high.

Among the many features are:
- Opening cab doors
- Detailed interior
- Opening battery door
- Tilting dump body
- Poseable front wheels
- Authentically detailed engine and drive train
Pair with the #40-0071 for a companion set!

The real Model 350 hauler had a 50-ton payload; a 560 hp engine; power shift transmission with 10 forward and 2 reverse gears; planetary drive full-floating front & rear axles; and full-time hydraulic power steering. The cab was fully insulated for sound & heat; had a 2-man depth, 1-man width; adjustable "Airride" seat; adjustable tilting steering wheel; heater; defroster; cab air filter pressurizer; and shatter resistant tinted glass. The body hoist featured dual, 3-stage, double-acting cylinders mounted outside the frame and could reach maximum dump in 17 seconds. Gross weight with rated payload was approximately 172,000 pounds. A number of options were available including air conditioning, back-up alarm horn, and vandalism protection devices.

Caution: This item is an adult collectible designed for use by persons 14 years of age and older.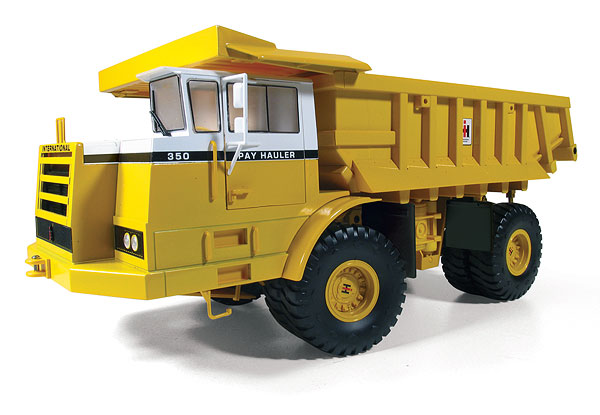 Rick - Ohio
Review Date: 12/6/2011 6:07:41 PM
Overall Rating

Experience Level: High
Purchased for: Personal Collection
Purchased the Pay Hauler earlier this year. While the entire 1/25th International line from First Gear is great, the Pay Hauler tops them all. Details abound on this truck, from the opening cab door and battery compartment to the three stage hydraulic lift cylinders for the dump body, this has it all. The engine is very well replicated (and visible from the right side). The dual front wheels are poseable and have a realistic turning radius. Paint quality of both the die cast and plastic parts is excellent. What you have to watch out for are the thin step bars on both sides of the cab and the accurately thin mirror brackets on both sides. If you're not careful, they break easily (don't ask). I would highly recommend this Pay Hauler to anyone that collects dump or mining trucks. Very well done.
Rick - Englewood, OH
Review Date: 5/6/2011 7:38:11 PM
Overall Rating

Experience Level: High
Purchased for: Personal Collection
Received the 350 Pay Hauler from 3000toys today. I must say that this is one impressive model. First Gear really does a great job on the IH line, and they really hit a home run with this one. The overall attention to detail is super, with just about every hose, wire, cable and connection replicated perfectly. The front wheels are easily poseable and the lock-to-lock movement is extremely realistic. Quite a bit of plastic, but the color match to the metal components is perfect. The dump body flips up on three stage hydraulic cylinders and will stay put at any position. Strongly recommend adding this to your construction fleet if only for the uniqueness of the truck itself. And, the packaging from 3000toys was bullet proof!