Made By: HERPA
Item: 053488
Scale: 1/87
Price $47.99
SPECIAL ORDER
First arrived: 11/6/2014
Added to catalog: 7/14/2014
Recommended Age: 14 and up

Goldhofer Powerpack - 2 Pieces - plastic
This accessories set includes two Goldhofer power packs with a total of 16 driving wheel rims.

SPECIAL ORDER
We do not stock this item in our warehouse.
Please allow 2-3 Weeks for delivery.


Caution: This item is an adult collectible designed for use by persons 14 years of age and older.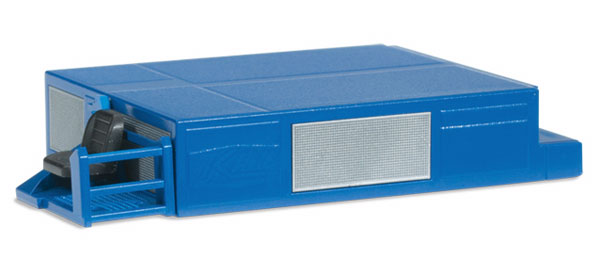 Ben - Tampa, Florida
Review Date: 5/25/2015 9:26:30 AM
Overall Rating

Experience Level: High
Purchased for: Personal Collection
Goldhofer makes for a realistic and impressive addition to an industrial site, shipyard, or just a heavy move on your layout. The power pack is a necessary piece (Brain) that supplies the computing power, operational controls, and self leveling and ground bearing pressures for all the individual goldhofer units to work in unison by just one operator. One could literally join an unlimited amount of units together and just one of these power packs could run the entire network. Two power units are packaged and for some reason, Herpa also has enclosed 16 wheel and tire hubs, Spares I guess. I'm not sure why this item is so expensive and there's not a lot of detail, but for a true to life goldhofer model, the power pack is a must have.