Made By: HERPA
Item: 744423
Scale: 1/87
Price $24.99

In Stock

First arrived: 12/4/2014
Added to catalog: 11/7/2014
Recommended Age: 14 and up
RETIRED ITEM
2 or less remaining
Available only while supplies last

SAR - Bell UH-1D Helicopter - Plastic Model Kit

Caution: This item is an adult collectible designed for use by persons 14 years of age and older.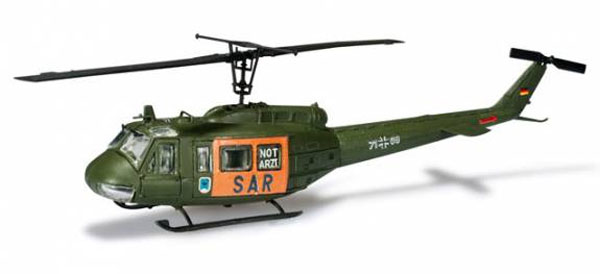 Ben - Tampa, Florida
Review Date: 5/21/2015 2:54:50 PM
Overall Rating

Experience Level: High
Purchased for: Train Layout or Diarama
Highly detailed, easy to build, mini model kit. It is paintable and comes with various decals for a custom build including US Army. Guns, missles, and rockets are included for a gunship conversion; however, there are no instructions explaining weapon installation. The side rolling doors are not functional, but can be affixed open or closed for infil or evac operations on a layout or diorama. The detail inside the cockpit and fuselage is excellent for such a small model. The main and tail rotors are functional with awesome detail. Goes perfect with my minitanks collection and I also have the AH 1 Cobra attack helicopter as an escort during SAR missions.