Made By: NEW-RAY
Item: 12783B
Scale: 1/32
OUT OF STOCK
First arrived: 3/26/2010
Added to catalog: 2/8/2010
Size in inches: L21 X H5 X W4
Recommended Age: 8 and up
RETIRED ITEM
0 or less remaining
Available only while supplies last

Freightliner Classic XL 40' Container in Red with logo (cab is die-cast metal, balance is high impact plastic)

Warning: Choking Hazard - Small Parts

not for children under 3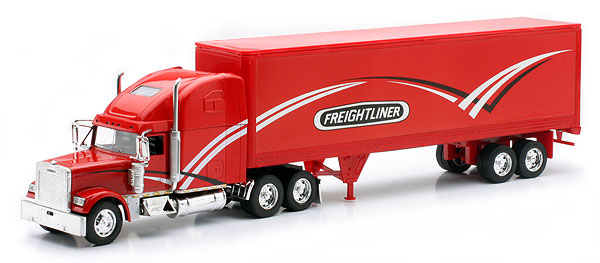 budg - usa
Review Date: 12/18/2015 6:59:58 AM
Overall Rating

Experience Level: Average
Purchased for: Gift for Child
Great toy and got it at a great price. My son loves theses trucks. Hr has over 40 of them ??. Before I discovered this site it was hard to find him new trucks. And when I did they were outrageously priced. This site has been a life saver this Christmas.
r.r. - Maine
Review Date: 4/10/2012 7:40:14 PM
Overall Rating

Experience Level: High
Purchased for: Personal Collection
This is a very very good truck! The back opens, and the truck just is nice and very decked out!