Made By: TONKIN
Item: M71101
Scale: 1/64
Price $79.99

In Stock

First arrived: 1/14/2006
Added to catalog: 1/14/2006
Recommended Age: Adults
RETIRED ITEM
Available only while supplies last

Fredrickson Motor Express - Mack CH with two 28' Pup Trailers - PEM Series
Quality you can see... quality you can actually feel!

Caution: This item is an adult collectible designed for use by persons 14 years of age and older.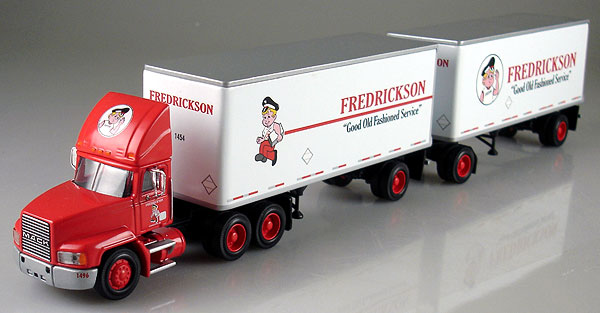 Andrew - North Carlinone,U.s
Review Date: 1/18/2011 5:54:36 PM
Overall Rating

Experience Level: Average
Purchased for: Personal Collection
I wish the trailers had opening doors.Not much deatil. I like truck and trailers numbers.