Made By: UNIVERSAL HOBBIES
Item: 8038
Scale: 1/50
OUT OF STOCK
First arrived: 3/16/2011
Added to catalog: 2/12/2011
Recommended Age: 14 and up
RETIRED ITEM
0 or less remaining
Available only while supplies last

New Holland E 485B Excavator

Caution: This item is an adult collectible designed for use by persons 14 years of age and older.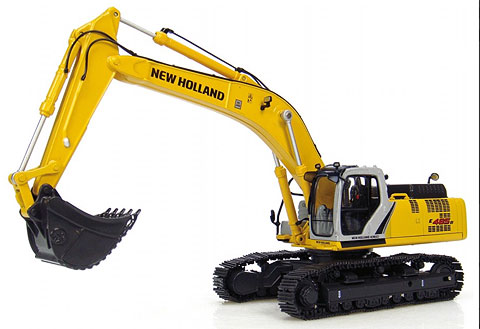 Maxcavator - Florida
Review Date: 1/27/2015 9:25:33 PM
Overall Rating

Experience Level: High
Purchased for: Personal Collection
You can't go wrong with this model. It's very well priced and the detail is superb. My copy arrived with an unglued sprocket cap so the track was off the model. It is a hook and pin set up so putting it back together was a delicate job. As a replica it's unbeatable, as a toy to play with not so much because of how delicate some of the details are. I like it so much I would buy another one.