UPS Zone Chart and Ground Schedule
Estimated Shipping Costs within the Continental United States
---
UPS Zone Chart and Ground Schedule
*Not Guaranteed December 15 through Christmas - Only Overnight Air is guaranteed during the Christmas Rush.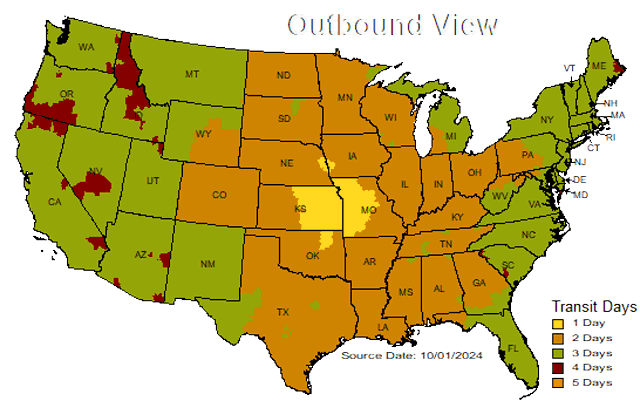 Estimated Shipping Costs within the Continental United States
For International Shipping, click here.
The rates below are only examples.
Exact cost depends on final package size, weight, and destination.
We are NOT able to provide exact quotes for Second Day or Next Day Packages.
During the Holiday season, only Next Day service is guaranteed by UPS.
You are charged UPS listed rates for Air services less a 10% Discount.
Air Charges are determined by the size of the package, not just the weight.
| | | | |
| --- | --- | --- | --- |
| | Ground | Second Day Air | Next Day Air |
| small item, 2lbs or less, value $100 or less | $7.95 | $26.00 | $45.00 |
| medium item or combination of smaller items, up to 4lbs, value $100 or less | $7.95 | $34.00 | $70.00 |
| large item or combination of items, more than 10lbs, value $100 or more | $7.95 | $62.00 | $105.00 |
To request special shipping, enter your request in the Special Instructions box after your address in the Shipping Address screen:
(shown below)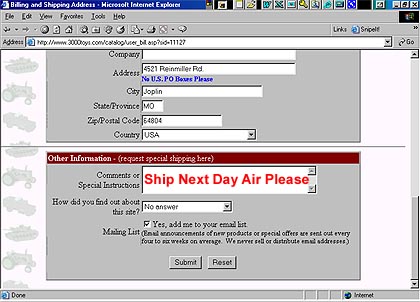 Due to our central location, our shipments reach almost the entire continental United States in 4 days or less (sorry, SW Oregon).
We are working extra hours to ship most orders within 24 hours of being placed. Please order as early as possible to ensure Christmas delivery.
Ground Shipping Christmas Time Table - 2015
This is our best estimate based on years of experience. However, there is no guarantee for regular Ground Shipping during the Christmas Rush.
Monday
Tuesday
Wednesday
Thursday
Friday
December 5
December 6
December 7
December 8
December 9
All Zones OK for Ground Shipping
December 12
Noon Central Cut off
December 13
Noon Central Cut off
December 14
Noon Central Cut off
December 15
Noon Central Cut off
December 16
Noon Central Cut off
All Zones OK
All Zones OK
All Zones OK
All Zones OK
All Zones OK
December 19
Noon Central Cut off
December 20
Noon Central Cut off
December 21
Noon Central Cut off
December 22
December 23
Orange Zone needs Air Shipping

Red, Green, Brown, Yellow Zones Probably OK for Christmas
Orange, Red Zones need Air Shipping

Green, Brown, Yellow Zones Probably OK for Christmas
Orange, Red, Green, Zones need Air Shipping

Brown Zone may need Air Shipping

Yellow Zone Probably OK for Christmas
All Zones Need Overnight Air Shipping for Christmas Delivery