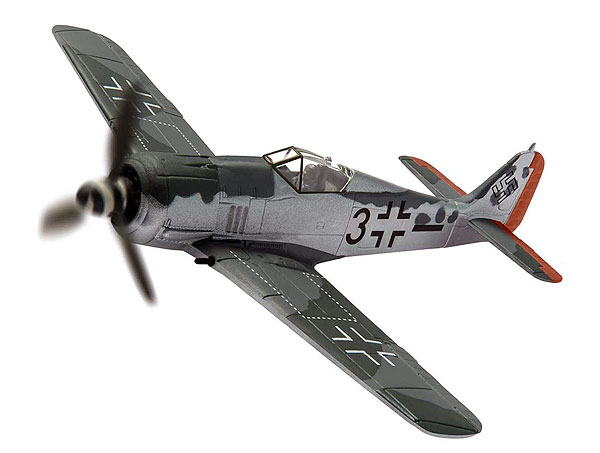 OUT OF STOCK



Corgi (#AA34316) 1/72 Scale



Focke-Wulf FW190 F-8, 'Black 3', Feldwebel Eugen Lorcher, II./SG2, 5 Staffel, Aufthausen, May 1945

As RAF pilots began to report the appearance of a new German fighter in the skies above Europe in the summer of 1941, they could not have known how significant this would become. For the next year, the Focke-Wulf Fw 190 would rule the skies and claim a heavy toll of RAF aircraft in the process. The increased loss rates were causing huge concern, when a Focke-Wulf pilot became disorientated, following combat with Spitfires over southern England and inadvertently landed his pristine machine at RAF Pembrey – The RAF had their Focke-Wulf! Following exhaustive testing of the captured aircraft, a new Spitfire was developed, which was capable of taking on and beating the new Luftwaffe fighter. The Spitfire IX proved to be more than a match for the Focke-Wulf and for a short time, the balance of power shifted again.