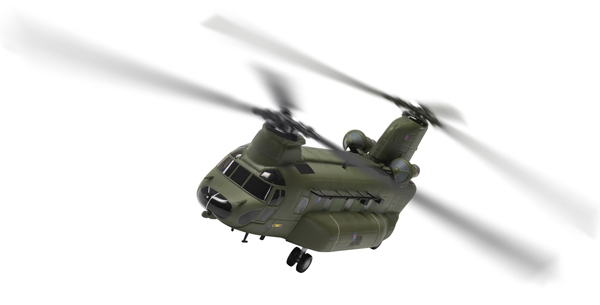 OUT OF STOCK



Corgi (#AA34213) 1/72 Scale



Boeing Vertol Chinook HC.3, ZH904, RAF No.18 Squadron, Odiham, 2012

Perhaps the most visible exponent of the emergence rotary power on the modern battlefield is the impressive Boeing Vertol Chinook. This large tandem rotor helicopter can operate from land or ship and is capable of delivering up to 55 troops and their equipment or around 26,000lb of weapons and supplies, including the ability to carry large underslung loads suspended from hard points underneath its fuselage for maximum flexibility. With a comprehensive avionics package and the ability to both detect threats and adequately defend itself, the Chinook is one of the most important aircraft available to the RAF, who are now the largest operator of the type outside the US.

The first RAF squadron to receive the mighty Chinook were No.18 squadron in 1981 and barley six months after converting to the helicopter, they were sent to the Falkland Islands as part of the British task force. Since this date, RAF Chinooks have been at the forefront of all significant British military operations and have shown themselves to be to be invaluable assets on the battlefield. Anyone who has seen one of these huge helicopters displayed at a UK Airshow will have marvelled at the agility of this beast and probably asked themselves 'how on earth does that thing stay in the air'? Even though 2016 marks the 55th anniversary of the first flight of the aircraft, the awesome Boeing Vertol Chinook remains as one of the world's most important aircraft, which is destined to stay in service for many years to come.