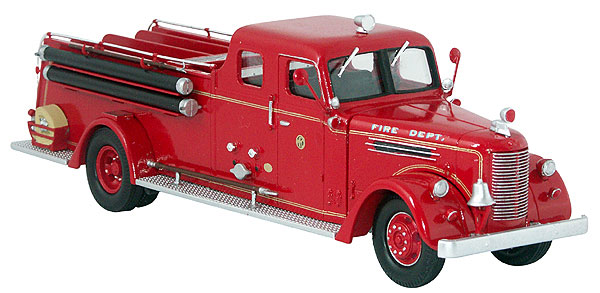 OUT OF STOCK



Corgi (#US53606) 1/50 Scale



Heroes Under Fire - Peter Pirsch and Sons, Milwaukee, WI Fire Department - Canopy Cab Pumper
From the Heroes Under Fire Series
This Pirsch Canopy Cab was delivered to Engine 4 of the Milwaukee Fire Department on May 31, 1946. The cost, brand new, was $12,223.54. In 1954 the rig was moved to Engine 36 and in 1965 became a reserve engine for Engine 47. The pumper was retired from Milwaukee in 1967 and sold to the fire department in Lac Du Flambeau, Wisconsin.
Answering the call from collectors, Corgi has brought back the retired models of E-One fire apparatus. The E-One pumper and the E-One 75-foot Ladder are refreshing the Heroes Under Fire line for 2008, and we are happy to welcome them back!