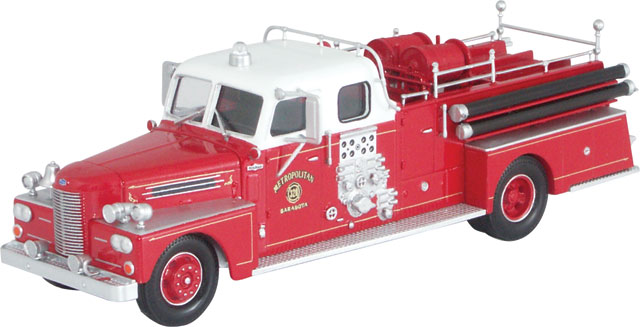 OUT OF STOCK



Corgi (#US53607) 1/50 Scale



Peter Pirsch & Sons Closed Cab Sedan - Metropolitan Fire Department - Sarasota, FL - Heroes Under Fire
Answering the call from collectors, Corgi has brought back the retired models of E-One fire apparatus. The E-One pumper and the E-One 75-foot Ladder are refreshing the Heroes Under Fire line, and we are happy to welcome them back! We are pleased to see the new closed cab Sedan Pirsch roll in with strong positive reaction from collectors.
The rounded fenders of the earlier Pirsch closed canopied models have been replaced by the boxy and businesslike version, as evidenced by this closed cab sedan from the Metropolitan Fire Department of Sarasota, Florida. Currently owned by Fire Apparatusenthusiast/buff/collector Kevin Lynch, this particular rig was restored to its original state over the course of two years beginning in2006. These days, however, the only action this 1968 Closed Cab Sedan sees is the occasional muster and pumping exhibition.