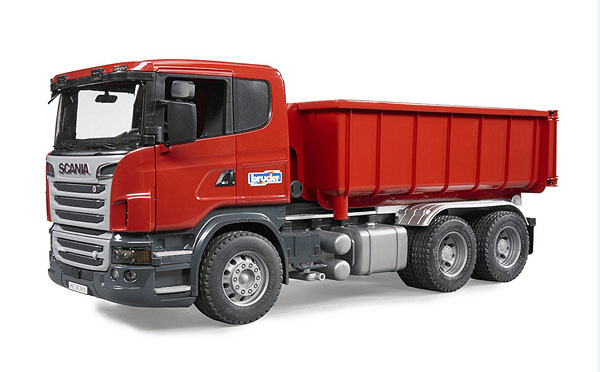 Price $63.99
MSRP $82.99




In Stock





Bruder (#03522) 1/16 Scale



Scania R Series Tipping Container Truck
• Folding Outside Mirrors
• Doors and Tailgate can be opened
• Container can be dropped
• Manufactured from high-quality plastics such as ABS

Transport containers are an inherent part of construction sites, where they are frequently used for disposal of bulk material or refuse. The container exchange system is especially advantageous, because the transport vehicle is not bound to the site. Instead, it can be used to transport additional containers to the location without disrupting the loading process of the containers already on site. The containers are easily loaded through the swinging doors located on the rear side. This also makes it possible to drive small construction machinery into the container. With the loading mechanism based on the full-size original, the container can also be attached to the loading arm, pulled up and locked on this Scania model.