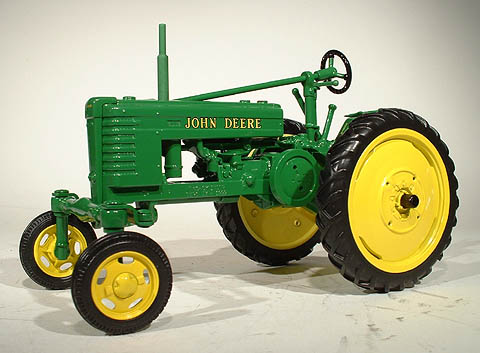 OUT OF STOCK



ERTL (#16006A) 1/16 Scale



John Deere "HWH" Tractor - 1999 2-Cylinder Club Expo
In 1939, John Deere introduced what would be the smallest two-cylinder tractor series built at Waterloo, Iowa. In fact, the engine produced only 13 horsepower at the belt pulley. Today the Model "H" Series is among the most popular with collectors and restorers, in large measure due to its diminutive proportions. However, competition in locating the Model "HWH", the official tractor for Two-Cylinder Expo IX, becomes serious for another reason. Only 126 of these tractors, developed especially for western growers of bedded crops, were produced - all in 1941 and early 1942. The "HWH" provided and example of engineering ingenuity through the adaption of a typical-configuration row-crop tractor to a speciality market.