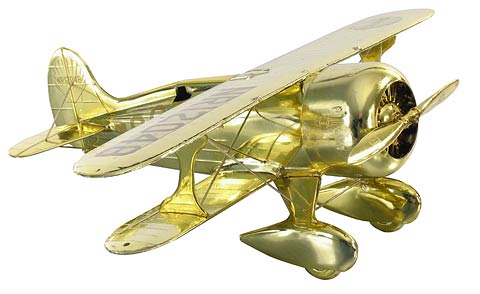 Price $54.99




In Stock





First Gear (#48-0052)



Shell #4 2005 Airplane - Laird 400 Racer
SPECIAL Edition - SERIAL NUMBERED LIMITED EDITION in Diecast Metal with working Propeller and Real Rear Rolling Wheels.
Produced in 2005
The first release of the Laird Super Solution was the fourth plane in the Shell Racing Series, featuring the striking Shell Red and Yellow paint scheme and authentic Shell marks from the period.
Aviation was fascinating during the Golden Age, in part because of the great strides in Aeronautics that were made; possibly the most innovative period in aviation history. This innovation was driven by the great air races as well as the need of developing airlines for larger, faster and safer planes, and included many advances in airplane design. These advances included modifications to reduce drag, the development of retractable landing gear, pressurized cabins allowing flight at higher altitudes, air-cooled radial engines, wing flaps, de-icing equipment, instruments to allow flight at night and in inclement weather, construction technology leading to mass production of all-metal planes, and of course, refinements in aviation fuel and lubricants.