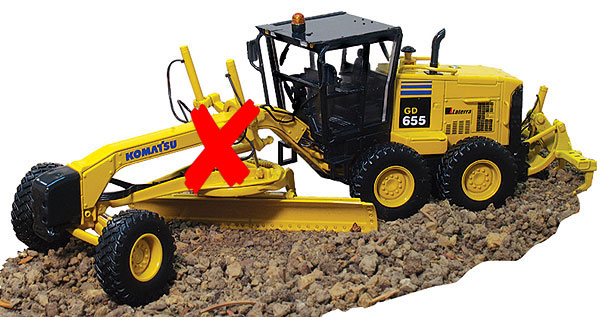 OUT OF STOCK



First Gear (#50-3062-X) 1/50 Scale



Komatsu GD655 Motor Grader
FRONT MOUNT AND ONE PISTON ON FRONT GRADER ASSEMBLY BROKEN
Meticulously crafted from 165 parts, this diecast metal collectible features free rolling wheels, rear mounted 3-shank ripper that can be raised and lowered, poseable drawbar-mounted circle with 360 degree rotation, full floating rear axle, low profile enclosed ROPS cab, realistic cylinder action throughout, articulating frame, pivoting and poseable front wheels, steps and handrails, headlights, back up and tail lights, cab roof dome light, and authentic interior detail. This outstanding model is loaded with exciting features! Even the attractive individual window-box carton is printed in authentic Komatsu graphics and colors.
Komatsu America is the second largest supplier of construction equipment in North America, known for innovation and reliability. For years they have been producing equipment for most every construction need. Motor graders have been an important part of their product line, with many unique features including the most versatile moldboard geometry in the industry.