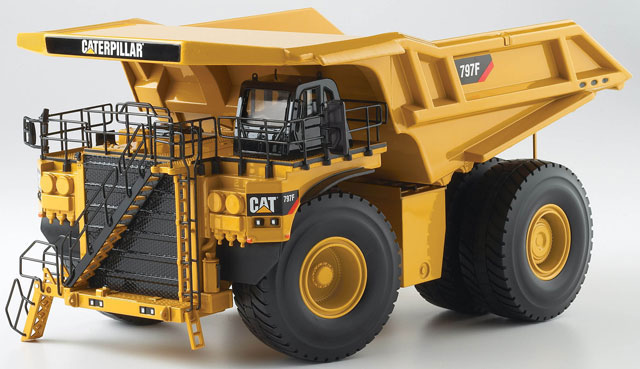 OUT OF STOCK



Norscot (#55206-X7) 1/50 Scale



Caterpillar 797F Mining Truck - HUGE and weighing in at over 9 pounds!
MODEL IS MINT, BOX IS DAMAGED
• Boarding ladder flips down to ground level • Side mirrors rotate in • Rails are metal • Engine Compartment opens to reveal engine detail • Working steering with linkages • Rock Knockers • Painted rivets • Grill Detailing • Truck bed raises and lowers
• Wheels roll with authentic tread design
• Power Edge and nomenclature deco
• Grab bars, ladders and authentic trim detail
• Clear windows display detailed interior cab
• It's humongous
hu·mon·gous (hyoo-muhng'-guhs) –adjective Slang. 1. extraordinarily large in bulk, quantity, or extent. 2. of unbounded extent, scope; limitless. – Synonyms: mammoth, gigantic, colossal, vast, stupendous, huge, enormous, immense, tremendous, massive.

Also available in White

CAT introduced the 797F mechanical drive to replace the flagship 797B, maintaining its 380- to 400-ton target payload.