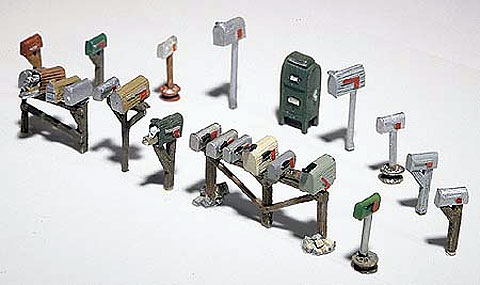 Price $8.99




In Stock





Woodland (#D206) 1/87 (HO) Scale



Scenic Details - Assorted Mailboxes - HO Scale
Lead-free Metal Kit
Use Scenic Details anywhere on your layout or in your display case. They fill in small, empty spaces beside railroad tracks or next to your collectible model. Colorful Dry Transfer Decals are included in some of the kits. Scenic Details kits are economical, easy to assemble, and fun to paint. They add color, interest, and authenticity.
If you have houses, you need mailboxes for the resident's mail. There are single boxes, mail receptacles, and rows of boxes for subdivisions or trailer courts.