Made By: FIRST GEAR
Item: 50-3188
Scale: 1/50
OUT OF STOCK
First arrived: 10/5/2010
Added to catalog: 4/12/2010
Size in inches: 5.75"x 2.25"x 2.75"
Recommended Age: Adults
RETIRED ITEM
0 or less remaining
Available only while supplies last

New Holland Agriculture International DuraStar Service Truck - Features include opening doors and hood with fully detailed interior, detailed chassis and undercarriage, 360 degree rotating crane, functioning telescopic boom, and authentic New Holland fleet graphics.

Caution: This item is an adult collectible designed for use by persons 14 years of age and older.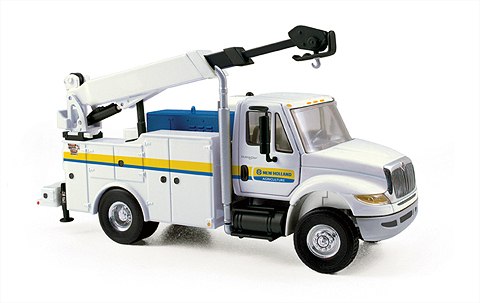 Diggertruck - Sandy Eggo
Review Date: 4/7/2015 3:01:21 PM
Overall Rating

Experience Level: High
Purchased for: Personal Collection
I got my Construction Equipment Service truck to complement my collection of construction equipment. It came with a "trailer hitch" which snapped off almost immediately. Fortunately, I was able to fix it with the larger pintle hook that came unattached with the model. JB Weld epoxy worked just fine. The overall condition and quality of the model was good, but they could have made it with a better, more sturdy pintle hook hitch. I set up the Service truck with a trailer from 3000 Toys and put a Bobcat skidsteer and a fork lift on it for a realistic diorama. Also, service from 3000 toys was excellent. I'll be back.