Made By: NEW-RAY
Item: 37033
Scale: -
Price $12.99
In Stock
First arrived: 11/15/2011
Added to catalog: 10/26/2011
Size in inches: Horse 3.75 tall
Recommended Age: 5 and up
RETIRED ITEM
Available only while supplies last

NYPD Policeman Figurine with Horse

Warning: Choking Hazard - Small Parts

not for children under 3

Reward Points thru Dec. 15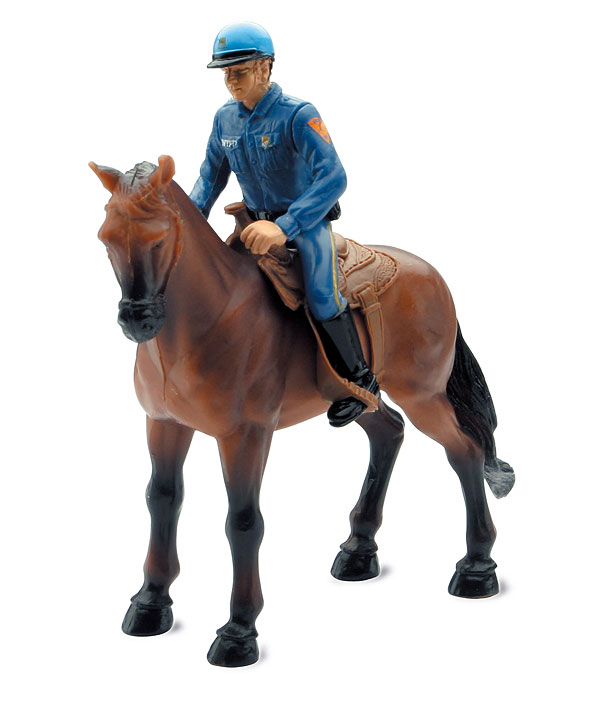 Whit - Arizona, USA
Review Date: 2/1/2013 3:36:07 PM
Overall Rating

Experience Level: High
Purchased for: Personal Collection
I was privileged to see and chat with an NYPD mounted officer some years ago, during a visit to New York City. Being both a military veteran and an experienced horseman (as well as a lifetime collector), one of the first things I noticed was that the "brass" on his mount's tack was marked, "U.S.". Unlike what's represented on your model (which is nicely detailed, no critcism, here), the NYPD saddle was, as I recall, also (former) military issue, ie, a McClellan, not a Western. It's quite possible that the saddle was of the "English" type; but I'm reasonably certain that it was McClellan. Other than that, the model is impressive. The mount even has a good resemblance to the Morgan horse employed by the NYPD. I seem to recall that the mounts have their own badge number, as well. Thanks for your time.