Made By: Die Cast Promotions
Item: 32605
Scale: 1/64
OUT OF STOCK
First arrived: 1/30/2012
Added to catalog: 1/9/2012
Recommended Age: 14 and up
RETIRED ITEM
0 or less remaining
Available only while supplies last

Peterbilt 379 Tractor with Lowboy Trailer and poly resin Yacht Load

This unique replica offering comes with a rear trailer Oversize Load billboard sign, chains, and a newly designed yacht load with boat cradle constructed of cold cast poly resin. - JUST 1 LEFT

Caution: This item is an adult collectible designed for use by persons 14 years of age and older.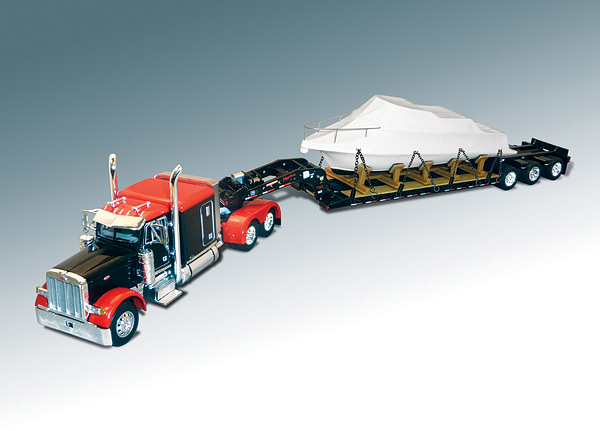 Dan - MA/USA
Review Date: 7/3/2012 6:48:20 AM
Overall Rating

Experience Level: Average
Purchased for: Personal Collection
I've been looking for a boat hauling tractor/trailer and this looks nice, but I haul boats and yachts for a living and NEVER put chains on a boat! Nylon straps are what we use.