Made By: NORSCOT
Item: 55261
Scale: 1/87
OUT OF STOCK
First arrived: 11/18/2010
Added to catalog: 8/18/2010
Size in inches: 4 x 2.37 x 1.75
Recommended Age: 14 and up
RETIRED ITEM
1 or less remaining
Available only while supplies last

Caterpillar 772 Off-Highway Truck - With its large, centered operator station and expansive glass area, the 772 truck sets the standard for operator visibility in a 50 ton truck. It's also the fastest Cat off-highway truck, with a top loaded speed of 49.5 mph. Features of the scale model include front wheel steering, a truck bed that raises and lowers, authentic tire tread design, and interior cab detail.

Caution: This item is an adult collectible designed for use by persons 14 years of age and older.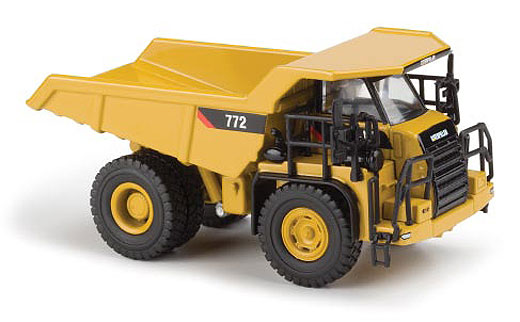 360 View requires Adobe Flash Plug in. Click image and Drag side to side to control rotation.
Tim - Ontario Canada
Review Date: 12/30/2011 1:43:12 PM
Overall Rating

Experience Level: High
Purchased for: Personal Collection
Another great piece from Norscot. Finish and detail are good. All hand rails are plastic but are crisp and well formed. Front wheels turn (not very far though) and box lifts just enough. Perfect truck for all mid & large/mid size excavators and large/mid size wheel loaders. ie: Norscot's CAT 980 and up.