Made By: ELIGOR
Item: 100162
Scale: 1/43
Price $11.93 was $32.95
In Stock
First arrived: 1/6/2005
Added to catalog: 12/27/2004
Recommended Age: Adults

Stephens Ink - 1934 Ford V8 Delvery Truck - Dr. Henry Stephens, of Finchley, London, was the inventor (in 1832) of the famous "Blue-Black Writing Fluid", later developed into ink. The family firm manufactured the ink and various accessories and laid the foundations of a considerable family fortune. His son, Henry Charles Stephens, continued the development of the family business. He was a member of Parliament and during his lifetime fought numerous battles on behalf of local interests. His involvement in local affairs, and his nickname "Inky" Stephens have since remained familiar to several generations of Finchley people. This model replicates the Ford Delivery Truck used by this family business in the 30's. It's highly detailed and very good quality.

Caution: This item is an adult collectible designed for use by persons 14 years of age and older.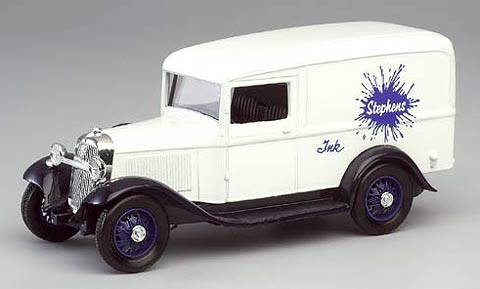 360 View requires Adobe Flash Plug in. Click image and Drag side to side to control rotation.