Made By: BRUDER
Item: 02427
Scale: 1/16
Price $28.99

In Stock

First arrived: 7/17/2008
Added to catalog: 4/25/2008
Size in inches: 13L x 6Hx 3.5W
Recommended Age: 3 and up

JCB Midi CX Loader Backhoe
Full floating axle at the front, frontloading arm with grip for steering and locking mechanism in the upper position, frontloading shovel with loading and unloading position, swivel driver's seat (to operate the backhoe loading unit), detachable backhoe loading unit with fold-down support legs, functional backhoe loading arm - excavates below ground level - with scoop steering (one-hand operation), changeable backhoe loader scoop, changeable front loader scoop, the standard tractor coupling (included) can be mounted when the backhoe loading unit has been removed; this enables all trailers and farming equipment available to be used, folding supports, sculptured tires.
Size in cm: 41.1 x 12.2 x 16.8
Made of High Impact ABS Plastic
Compatible with the Ertl Big Farm products

Warning: Choking Hazard - Small Parts

not for children under 3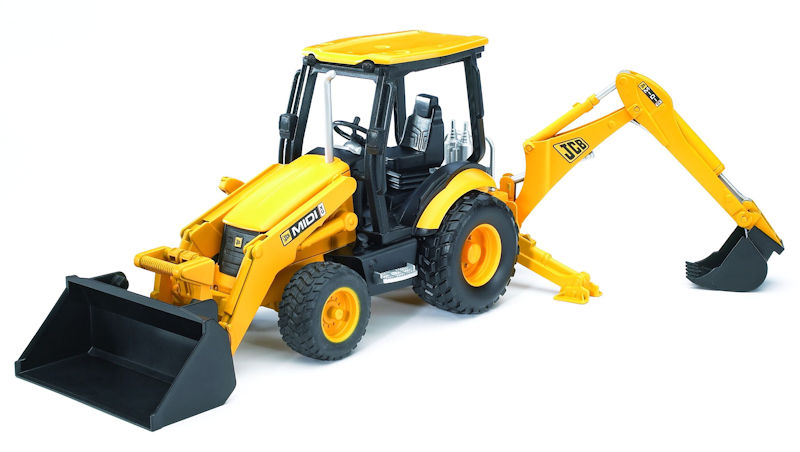 Conner - New Jersey
Review Date: 10/12/2011 3:47:53 PM
Overall Rating

Experience Level: High
Purchased for: Diarama or Train Layout
This is a great toy. The only downfall is the loader arm does not raise very high at all. Otherwise, great toy for the price and deatal. I highly recommend it.
carson - Maine
Review Date: 3/29/2011 3:46:30 PM
Overall Rating

Experience Level: Average
Purchased for: Personal Collection
I love this toy it is very durable and works great in sand and/or snow.