Made By: BRUDER
Item: 62002
Scale: 1/16
Price $22.99

In Stock

First arrived: 7/30/2012
Added to catalog: 1/27/2012
Recommended Age: 5 and up

JCB Micro Excavator 8010 CTS with Male Construction Worker - BWorld series

Features include:
• Figure has moving head and limbs, hands can grasp objects and hold onto to vehicles
• Seat has retaining clip so the figure sits securely
• Car body swivels 360³
• Moving crawler tracks and plough blade
• Excavator arm moves up and down and the bucket tilts
• Manufactured from high impact ABS plastic
• Made in Germany

Small enough to fit through the tiniest gaps, strong enough to do the work of ten men! The JCB micro excavator 8010 CTS is a remarkable machine. Remarkable not just due to its size, but also because of its colossal power. The micro excavator's equipment is true to detail, including the fully functional excavator arm, the rotatable chassis and the movable blade. The vehicle is perfectly suited to the figures of the Bruder Bworld series thanks to the seat with support bracket and the adapted control instruments. The JCB micro excavator 8010 CTS also has smooth-running tracks to allow playful maneuverability. A Bworld series figure is also included with the micro excavator. This allows work to begin on the construction site as soon as you have opened the packaging!

Warning: Choking Hazard - Small Parts

not for children under 3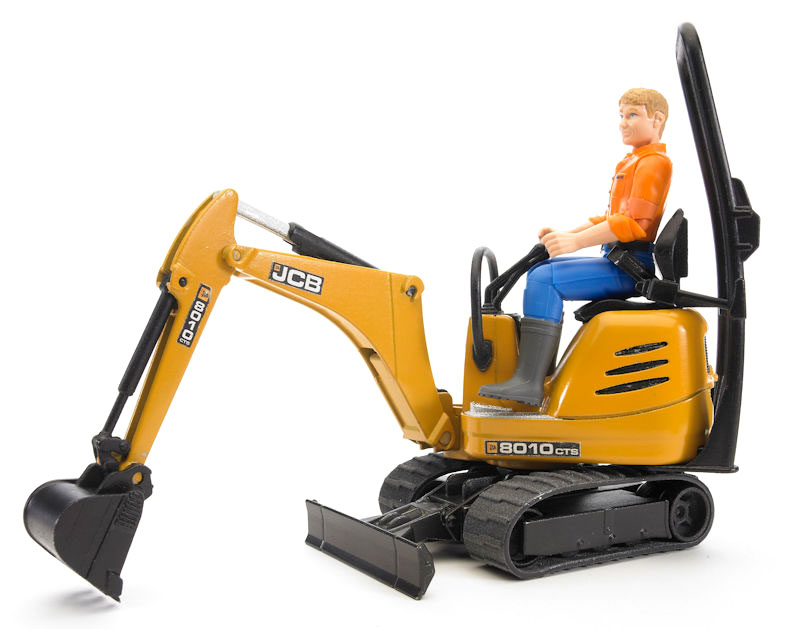 shea - alska
Review Date: 4/18/2012 3:46:35 PM
Overall Rating

Experience Level: Average
Purchased for: Personal Collection
I love this item. I highly recommend this toy for ages 5 through 1,239.