Made By: ERTL
Item: 45087
Scale: 1/50
Price $55.99

In Stock

First arrived: 7/26/2010
Added to catalog: 7/1/2010
Recommended Age: 14 and up
RETIRED ITEM
Available only while supplies last

John Deere 909KH Harvester
With accurate OEM graphics, numerous features, and great detailing, this piece of craftmanship is perfect for any logging collector. The piece is fully moveable, with articulating and rotating body, metal rotating tracks, functional harvesting head, and functional boom arms. The attention to detail is evident even in the engine and hydraulics, which are revealed by the hinged side doors and opening hood.

Caution: This item is an adult collectible designed for use by persons 14 years of age and older.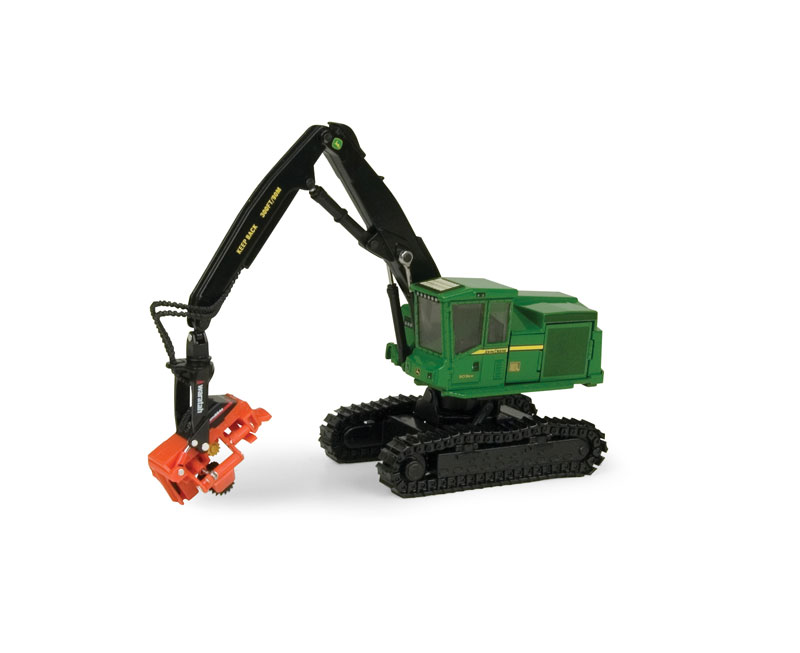 justin - tennesse
Review Date: 7/10/2011 11:52:13 PM
Overall Rating

Experience Level: Average
Purchased for: Personal Collection
i reily liked my 909kh i rekemened it it is good for its price but my track broke but it is still very good
lars - burns lake b.c
Review Date: 2/22/2011 10:52:08 AM
Overall Rating

Experience Level: Average
Purchased for: Personal Collection
this is a awsome machine it even cuts small trees
Nigel - Canada
Review Date: 12/11/2010 2:29:34 PM
Overall Rating

Experience Level: High
Purchased for: Diarama or Train Layout
A lot of us on youtube have collections that we use these models in and we make videos of the dioramas we make, and we all marvel at the models other people have. I was the first person that put this model up on youtube and every body was surprised at the quality that Ertl produced here. It's tilt is a really original feature, which was the second selling point to me, next to the body features such as the huge opening hood and really nice boom. I like the paint a lot. But a problem is the plastic head, Ertl has to change to metal. It works very nice in my diorama too. I recommend this model, Deere has some nice machines and this model certainty shows that.