Made By: ERTL
Item: 45366
Scale: 1/50
Price $41.99

In Stock

First arrived: 3/12/2013
Added to catalog: 11/27/2012
Size in inches: 8"L x 2.75"W x 2.5"T
Recommended Age: 14 and up

John Deere 460E Articulated Dump Truck (ADT)
JD unveiled their 46-ton truck at Conexpo in Vegas in 2011.
JD says this about their truck: "Boasting bigger dump bodies and even faster cycle times, E-Series ADTs deliver big-time productivity. So you'll haul more material at lower cost per ton than comparable-size trucks. The 460E employs a heavy-duty fabricated frame and high-alloy steel dump body, ensuring best-in-class payload-to-weight ratios. It also comes loaded with a John Deere EPA Interim Tier 4 (IT4) diesel engines. Purpose-built transmissions with eight forward and four reverse gears. Heavy-duty John Deere-built axles with wet-disc brakes. Standard adaptive suspension. Full-time six-wheel drive."

Caution: This item is an adult collectible designed for use by persons 14 years of age and older.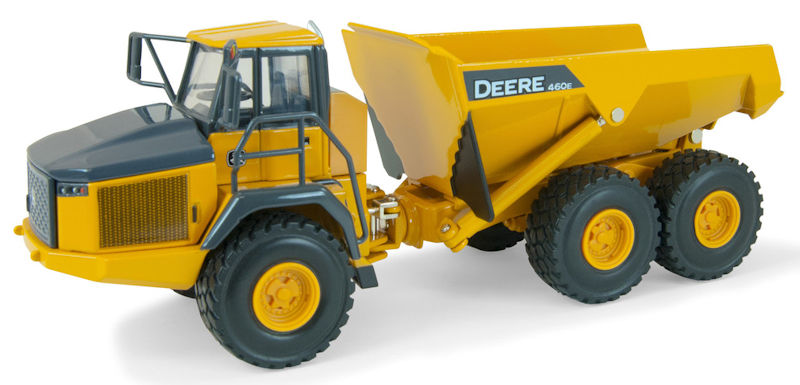 cat 385 - virginia
Review Date: 12/29/2013 12:23:33 PM
Overall Rating

Experience Level: Average
Purchased for: Personal Collection
The cylinders got a bit loose. I like how big the dump bed!!!!!! Another great job by Ertl!!!!!!!!!