Made By: ERTL
Item: 46070
Scale: 1/16
Price $139.99 was $149.99

In Stock

First arrived: 6/4/2012
Added to catalog: 2/6/2012
Size in inches: 26" L
Recommended Age: 3 and up

John Deere S670 Combine - Big Farm Series -

Made of Durable Plastic

TOO BIG FOR INTERNATIONAL SHIPPING

This model features:
- Light and sounds
- Steerable rear wheels
- Removable front outside dual wheels
- Right side rear body panel opens
- Oscillating rear axle
- Movable mirrors
- Detachable grain head
- Feeder housing raises and lowers
- Unloading auger rotates outward, spins, and unloads grain pellets
Ertl's Big Farm 1:16 scale vehicles are the only line of off-road toys designed with loads of detail that features lights and sounds play action. Ertl Big Farm is a great alternative for younger children and kids can enjoy hours of indoor and outdoor vehicle play with this line of durable tractors and equipment.

Warning: Choking Hazard - Small Parts

not for children under 3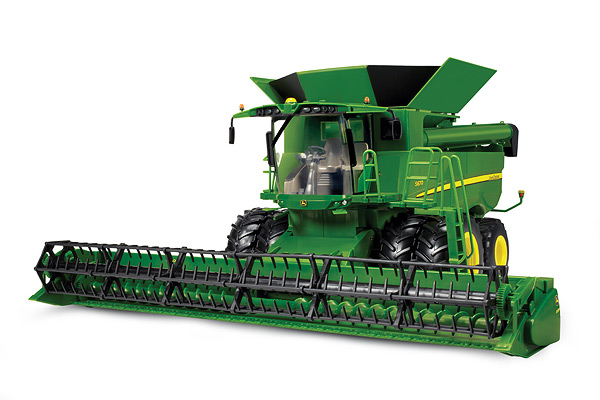 Connie - Iowa
Review Date: 7/7/2014 6:24:49 PM
Overall Rating

Experience Level: Average
Purchased for: Gift for Child
My grandson Peyton has had this for 3 years and nothing has broken on yet. He plays with it often.
willy - jackson center, ohio
Review Date: 1/2/2013 11:34:13 AM
Overall Rating

Experience Level: High
Purchased for: Gift for Child
My friend Landon got this from Santa for Christmas. He likes it a lot, but it's made cheap beacuse it keeps breaking. The front dual keeps coming off. Santa needs to implement quality control standards.