Made By: KIBRI
Item: 13016
Scale: 1/87
Price $169.99

In Stock

First arrived: 11/18/2014
Added to catalog: 8/26/2014
Recommended Age: 14 and up

Liebherr LG 1800 Spacelifter Mobile Crane Plastic Model Kit
Difficulty Rating: Professional


Caution: This item is an adult collectible designed for use by persons 14 years of age and older.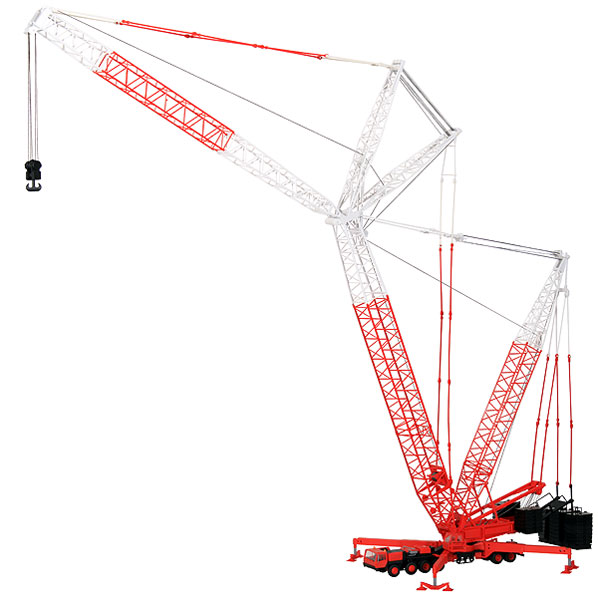 Ben - Tampa, Fl
Review Date: 9/21/2015 9:41:40 PM
Overall Rating

Experience Level: High
Purchased for: Personal Collection
This is an excellent model with the understanding it is a moderately difficult model to assemble. Patience is a must and techniques easily found on the web or YouTube, will help you build your skill level. All the sheeves, pulleys and drums are reasonably functional but reaving the crane might drive you nuts. The end result makes it worth while. I like that all the boom, heads, heels and luffing strut sections are already moulded as one with this kit, so all that is left is the carrier and multiple moving parts, lottsa moving parts! With all my Kibri kits, I hit it with a fine primer and spray with my airbrush for a custom finish (Try not to paint a squirt boom unless it's in a fixed position or the pait will peel off scoping in and out.). This will also add to the rigidity of the model. I'm actually using just the boom, back mast, and luffer to add to the Kibri kit 13013, the twin jib lattice crawler. It will be over 4 feet tall when I'm done and that is huge for 1:87 scale. Kibri makes a great product. Sometimes pieces are broken; however, at times, double or even triple parts are provided, but if not, I'm sure 3,000, will take care of any issue. They have for me! Model cranes are expensive, and keep cost down for us, assembly is required. That's the fun for true hobbiest!
Greg - Maryland
Review Date: 3/3/2015 9:20:17 PM
Overall Rating

Experience Level: Average
Purchased for: Personal Collection
Very poorly made by kibri. Seemed like pieces thrown into a box, broken pieces when opened, very high price for a hundred plastic pieces, cant understand the directions at all. Still love 3000toys just wont purchase any more kibri!