Made By: MAISTO
Item: 31956R
Scale: 1/25
Price $13.99

In Stock

First arrived: 4/7/2004
Added to catalog: 4/7/2004
Recommended Age: 8 and up

Volkswagen Van Samba in Red and White - Special Edition:

• Diecast metal body with plastic details
• Opening doors
• Opening hoods and trunks on some models
• Detailed chassis

Warning: Choking Hazard - Small Parts

not for children under 3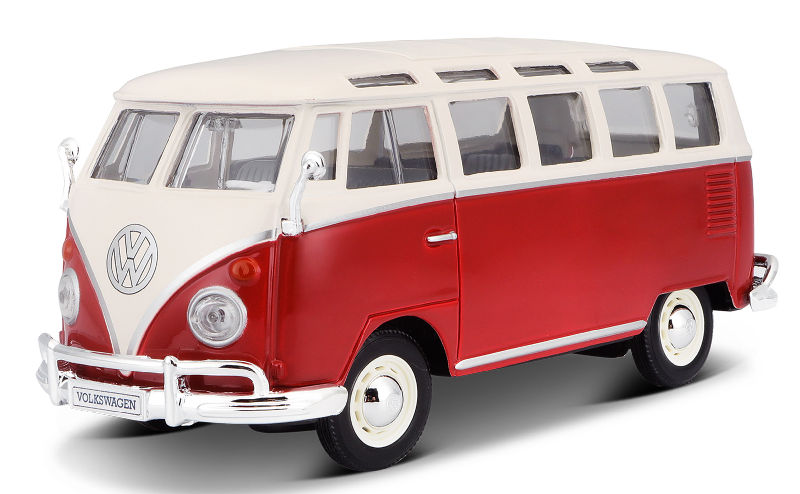 David - USA
Review Date: 3/22/2007 4:39:31 PM
Overall Rating

Experience Level: Average
Purchased for: Personal Collection
So, why 1/25 scale as opposed to 1/24? I don't know. I wonder if the people at Maisto have an answer to that one. I've previously stated that I am partial to the Volkswagen Beetle and Microbus; so, I really have no complaint about this item. I like it, and I am glad that I purchased it. When I place it next to a similar item made by another manufacturer, but in 1/24, I really can see no difference. I wonder how 1/24 scale people would feel about it. Would they fit in it? Would they shun it in favor of their own scale? Hmmm........ But, seriously, folks, this is a nice little gem at an affordable price. Interesting color, too.
Jon - Washington
Review Date: 1/2/2007 1:52:54 PM
Overall Rating

Experience Level: High
Purchased for: Personal Collection
This is a really well made toy, with rubber wheels and good attention to detail. The side doors do not open very wide, but other than that it looks quite good.