Made By: MAISTO
Item: 39923R
Scale: 1/24
Price $19.99

In Stock

First arrived: 3/5/2007
Added to catalog: 1/24/2007
Recommended Age: 8 and up

Ferrari F50 in Red - Custom Shop Assembly Line Model Kit
These highly detailed kits come with everything you need to build them including the screwdriver. They feature opening parts, a pre-painted metal body, and when finished, are a fully functional, rolling die-cast replica.
• Highly detailed
• Opening parts
• Rolling wheels
• Screwdriver included
• Easy assembly
• Pre-painted metal body

Warning: Choking Hazard - Small Parts

not for children under 3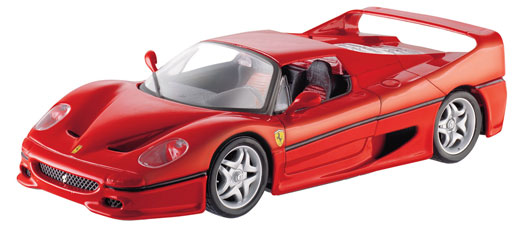 Tinman - California
Review Date: 8/14/2010 10:23:11 PM
Overall Rating

Experience Level: Average
Purchased for: Personal Collection
I was quite satisfied with it until I realized the roof portion in the model kit was made out of plastic and will ultimately keep falling off unless you superglue it. I didn't like their light cover system either. The clear plastic posts that hold them in look a little cheap when you're done and the absence of any paint to suggest lights exist in the front make these posts stick out even more. The back half came out great though. Wish they put a little more investment into the design of the model mating points as well as actually painted on headlights.
Nightlord - Toronto Canada
Review Date: 4/3/2007 9:39:21 PM
Overall Rating

Experience Level: Average
Purchased for: Personal Collection
An excellent peice for a small collection. The fact it is an assembly peice that is relatively easy for youngsters to put together is a definite asset. Realistic functioning doors and rear engine hood