Made By: SWORD
Item: 2000
Scale: 1/50
OUT OF STOCK
First arrived: 11/30/2009
Added to catalog: 10/21/2009
Recommended Age: Adults
RETIRED ITEM
0 or less remaining
Available only while supplies last

Superior Industries TS-150 Telestacker Conveyor

Caution: This item is an adult collectible designed for use by persons 14 years of age and older.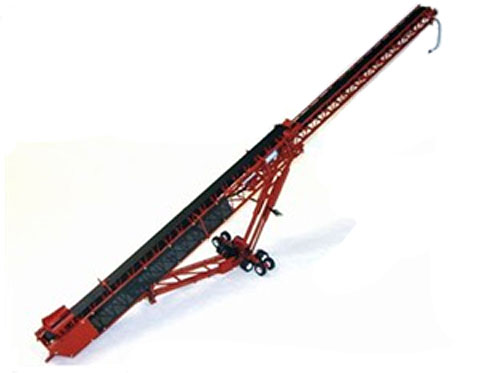 Tim - Ontario Canada
Review Date: 3/4/2011 3:58:10 PM
Overall Rating

Experience Level: High
Purchased for: Personal Collection
a Very fine and delicate peace but a nice one for an active display Be very careful peaces are small and don't take to much to brake !! Also the extension legs don't go up quite far enough Once set up don't move it around to much,it look like they took the real thing and shrunk it,it that real looking !!! If they could put a small motor in it,it would move sand like the real thing
Tonka - Ireland
Review Date: 1/19/2010 2:09:26 PM
Overall Rating

Experience Level: Average
Purchased for: Personal Collection
Very detailed, down to individual coils of hose. Labelling is excellent. Parts of it are vulnerable to rough use though. As in the case of the second hand one I purchased, there were 4 elements broke off it completely. really nice model though and will look good with a large mobile crusher but then you would have to purchase andother conveyor as usually crusher have more than one product coming off them.