Made By: TONKIN
Item: P4702363
Scale: 1/53
Price $74.99

In Stock

First arrived: 3/6/2012
Added to catalog: 2/27/2012
Recommended Age: Adults
RETIRED ITEM
2 or less remaining
Available only while supplies last

Agricultural Transport - Peterbilt 386 Sleeper and 2-axle Reefer Trailer with Aero Skirt

Limited Edition of 18 pieces

Thoughtfully designed and diecast in metal to 1:53 scale with up to 150 separate pieces, each Precision Series replica is both a showroom-quality collectible and a technically accurate model
Series features include:
Brand specific details
OEM certification
Custom graphics
Opening hood
Opening doors
Steering front axle
Opening hood
Accessible interior

Caution: This item is an adult collectible designed for use by persons 14 years of age and older.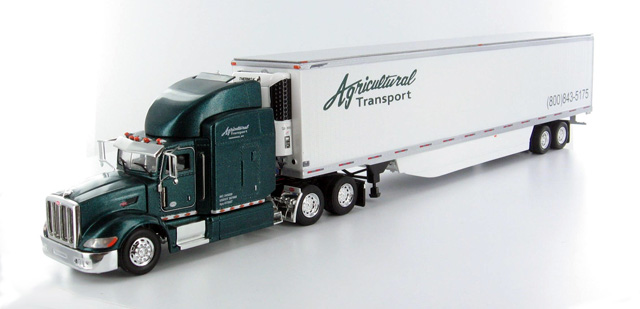 Tylor - Colorado
Review Date: 5/24/2012 11:40:11 AM
Overall Rating

Experience Level: High
Purchased for: Personal Collection
Great model! I love the trailer skirts. It's my favorite model in my collection!