Made By: WSI
Item: 04-1080
Scale: 1/50
Price $393.99

In Stock

First arrived: 9/17/2013
Added to catalog: 5/3/2013
Recommended Age: 14 and up

Liebherr LTM 1350 - 6.1 Truck Mounted Crane

Caution: This item is an adult collectible designed for use by persons 14 years of age and older.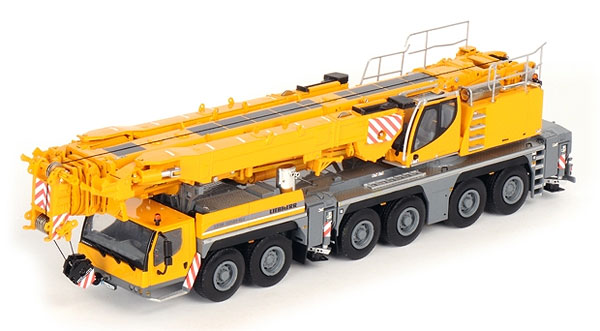 Ben - Tampa, Fl
Review Date: 11/7/2015 7:52:15 PM
Overall Rating

Experience Level: Average
Purchased for: Personal Collection
Absolutely, 1000% satisfied with this model crane! As an operator of this very crane, I am amazed at the details from the planetary hub placement to the warning sticker placement. I was pleasantly surprised when I realized the very large lattice fly jib that is included. I also purchased the luffing jib which is sold separately and when erected, it makes for a massive piece of equipment! Relatively speaking, the 1350 is very reasonably priced for such a large model crane even without the extra jib assembly. A must have for any model crane guy!
Ben - Tampa, Florida
Review Date: 10/24/2015 6:35:13 PM
Overall Rating

Experience Level: High
Purchased for: Personal Collection
In WSI fashion, this is a highly detailed, excellent model! I have actually built and operated the real LTM 1350 and I am astonished at the accuracy of the details. Even the warning and crush hazard stickers are spot on! The lattice fly jib is imperfect, however, it is acceptable and looks very impressive when erected. I would recommend purchasing the luffing jib. The luffer has been modeled very well and accents the mobile crane with incredible detail and presence. The price of the WSI, LTM 1350 6.1 is, in my opinion, the most economical (bang for your buck!) crane model out there! Even if you purchase the luffing jib, which is sold separately, it is less expensive than most large hydro crane models and with 6 sections of boom, the y-guy, and either jib erected, this is a huge model. I am 6'2", and it is taller than me! Pictures and videos like cranes etc. doesn't do this model justice. Once it arrives at your door and you remove it from the massive box, you will be more than satisfied. No buyers remorse here!
Michael K. - Iowa
Review Date: 8/19/2014 8:31:46 AM
Overall Rating

Experience Level: Average
Purchased for: Personal Collection
I bought this model because I have ran one in the past. Good model, swing is a little tight, it had an outrigger pad that has fallen off. Three of the pads had been glued to the transport bars. A couple of the bolts are a little to long for the crane. But on some models the hoist doesn't hold a load. Mine does, I built the model and removed half the weights and it holds them fine! Over all good crane! Needs some improvements though. Hose details would have been nice. Out riggers are not even from one side to the other.
Ben D - Canada
Review Date: 5/24/2013 6:39:20 PM
Overall Rating

Experience Level: Novice
Purchased for: Personal Collection
Very nice model.Im impressed with overall quality