Made By: NZG
Item: 885
Scale: 1/50
Price $209.99

In Stock

First arrived: 3/2/2015
Added to catalog: 1/14/2015
Recommended Age: 14 and up

CIFA K45H Mercedes-Benz Arocs 8x4 Truck Mounted Concrete Pump

Caution: This item is an adult collectible designed for use by persons 14 years of age and older.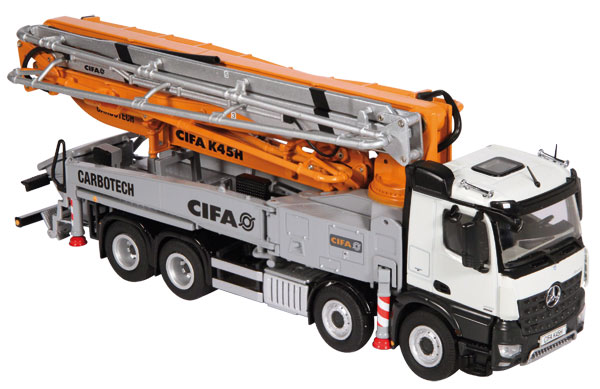 Francisco - Arizona/US
Review Date: 10/6/2015 12:38:23 AM
Overall Rating

Experience Level: High
Purchased for: Personal Collection
I love this model, the price is very high honestly but the functionality of the model is also impressive, the boom has 5 sections, all of them are metal and they have well detailed hydraulics. At the end of the fifth boom there is a plastic hose which is used to place and direct the concrete. The boom can rotate at its base and can be raised very high. The outriggers are metal and they can hold the model wheels free which is amazing and also gives the opportunity to display the model like the real machine. The cab is well detailed, however it can not be tilted to show the motor. The detail in beneath is well implemented. The range of movement of the front two axles is a little bit limited; however, they allow the model to turn in a wide curve. At the rear the grill is hinged and a metal cover is also provided. One thing I do not like is that the cylinders which pump the concrete are plastic as well as the pipes in the boom since they are fragile, especially the pipes in the boom. In general, this is a heavy model but at the same time, it is also kinda fragile. It is quite expensive but also an excellent option if you appreciate its complexity and beauty.